Qual@xy MES Software: Increase Quality & Reduce Cost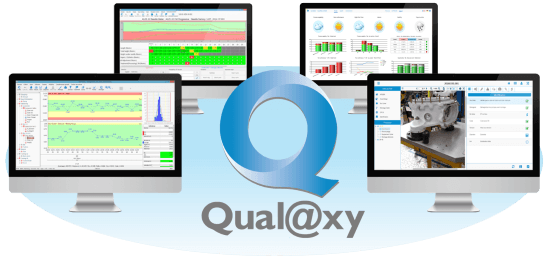 Qual@xy Suite is an integrated group of quality and production software modules for industry 4.0. Qual@xy Suite provides a unique insight into your manufacturing process allowing you to plan and manage quality whilst increasing plant efficiency and productivity.
Integrating the various modules not only provides you an efficient way of managing information, but also significantly improves the way information can be communicated and shared.
Our MES software provides a personal user experience, with user configurable web style screens allowing each person of the company to view only the information of interest at any one time.
Benefits
Continuous improvement: Our solutions and our services focus on production data tracking and analysis in order to collaborate to continuous improvement process and lean manufacturing.

Non-conformance reduction: A better control and analysis of your production will reduce your non-conformance parts.

Cost reduction: Thanks to our manufacturing execution system, you will increase your plant efficiency and productivity.