Qualaxy SPC
Real time process control specialist
A key tool to improve the quality of your process
Companies usually have a ERP to manage all their activities like Human Resources, Design, Production, Suppliers etc.
However, for the shop floor, companies must have an efficient and integrated SPC software to collect all measurements and traceability data.
Key features
– Data collection
– Real Time quality control
– Clear and immediate process analysis
– Robust and comfortable operator interface for the workshop
– Conformance & traceability
Benefits
– Productivity & efficiency: our SPC function allows you to analyze processes and equipment to provide meaningful, real time data to help your continuous improvement.
– Real time quality control: Qualaxy SPC (formerly SPC Vision) provides real time process analysis and feedback, identifies potential problems at a very early stage and sends alerts so action can be taken to prevent defects.
– Industry compliance: our Qualaxy Suite SPC function provides a process system for measuring and monitoring process variation, capability.
– Process control & productivity: Qualaxy SPC is a complete solution to gain a better understanding of your process. Productivity and quality benefits help you to meet global performance of your company.
Is SPC compatible with 100% inspection? Various articles published here have already explained the concept of SPC (Statistical Process Control) and its benefits for any production process. Traditional SPC is focused on sampling the production but in some processes 100% inspection is used. This could be for various reasons including controlling safety critical  or high value [...]
Qualaxy SPC infographic Share this infographic on Register to our newsletter Related articles Common SPC Myths In this article, we will briefly discuss some of the commonly held misconceptions about SPC.  […] Read more SPC after the 'project' Stage How to move SPC 'project' activities [...]
Advanced Qual@xy SPC analysis tools
Defect Map : a Qual@xy SPC functionality for defect location
Process Steering Matrix : automatically calculates the best machine corrections based on differences in the target values of the measured parts
Gage R&R : provides repeatability and reproductibility analysis for understanding and validating your measurement system
Defect Map
Defect Map, a Qual@xy SPC functionality for defect location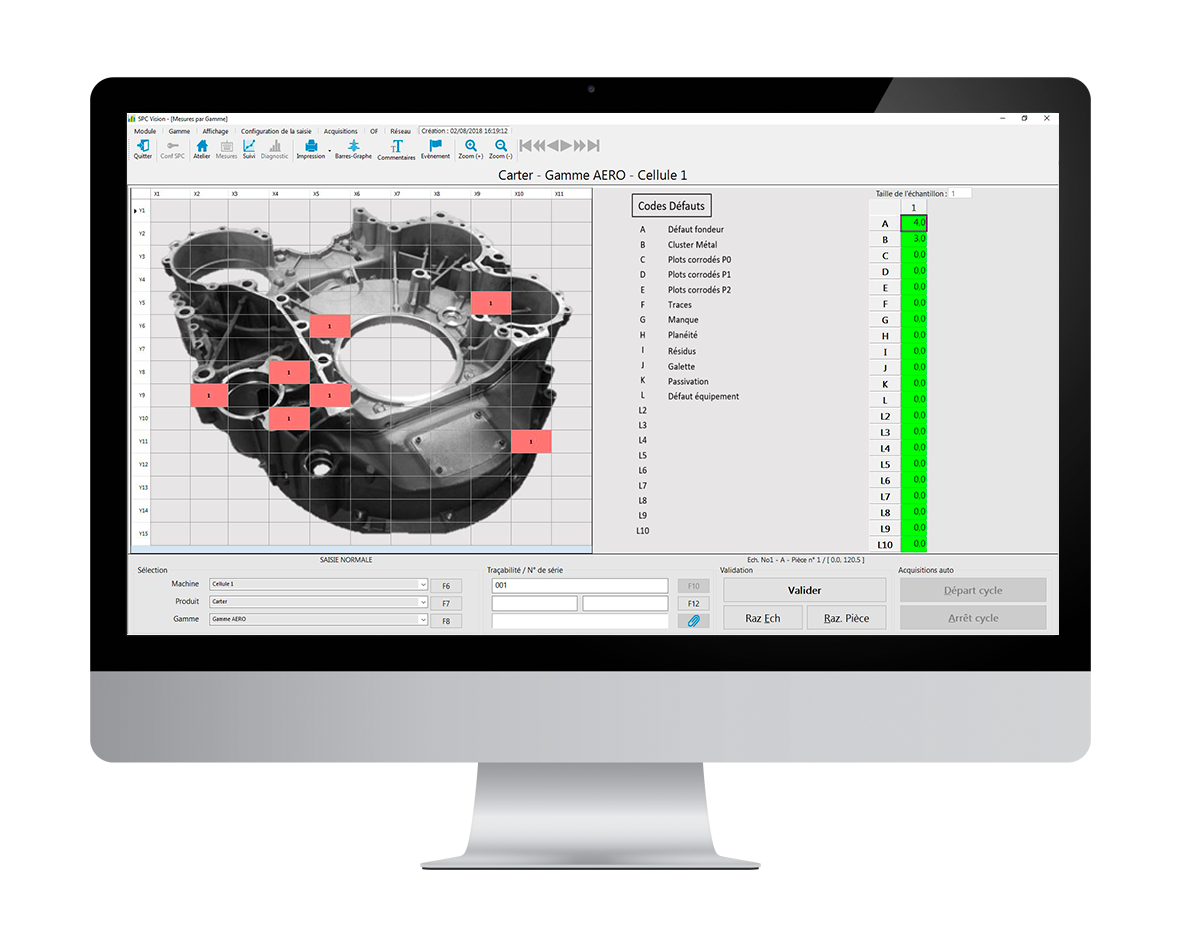 Why is Defect Map needed?

Defect Map is an advanced attribute module of SPC Vision which allows you to easily record and analyze all aspects of visual, surface or attribute inspection. It provides key information to help you control the manufacturing process and focus your improvement efforts.
Products containing critical surface or cosmetic features are notoriously difficult to manufacture to consistently high quality standards. This is partly due to the large number of potential causes of the defects but also to the way in which the inspection data is collected and managed.

The combination of the inspection process being very subjective and normally only pass/fail data recorded means it is very difficult to control the process and even harder to improve it.
How can Defect Map help?

By recording details such as defect type, location, severity or size, defect map lets you clearly see the problematic areas, whether a particular defect is getting better or worse and also whether defects are becoming more severe.
This allows you to control the process and focus your improvement efforts.
Key features

– Electronic 'measles' chart
– Records defect type, size, location & severity
– Real Time validation & analysis
Typical applications

– Non destructive testing
– Composite surface inspection
– Any products with critical cosmetic features
Defect Map – Introducing the concept of defect location and advanced attribute SPC In the last post we looked at how SPC could be used more effectively for attribute (go/no) characteristics. The key point was that although traditional attribute SPC control charts such as C-charts, NP-charts, P-charts and U-charts  were useful for monitoring changes in the process, the data [...]
Process Steering Matrix
Achieve Zero defect production using steering matrix
Overview

A steering matrix models the relationships between machine parameters and dimensions of the manufactured part. SPC Vision automatically calculates the best machine corrections based on differences in the target values of the measured parts.
Real time feedback and machine adjustment
Key features
More accurate machine setting

Reduce process control time/cost

Applications: Machining, injection moulding etc.
The steering matrix in brief
Before the matrix control
After the matrix control
Process steering matrix blog
What is Inertial Tolerance? An innovative and effective approach to shop floor tolerance management and process control SPC Vision V7 has incorporated 'Inertial Tolerancing' into its already feature packed functionality. Developed with Maurice Pillet (Savoie University), this dynamic approach enables increased manufacturing tolerance to be applied on the shop floor whilst still conforming to overall design requirements. [...]
Gage R&R
Understand and control your measurement process
Overview

The starting point for all quality monitoring is the measurement system. It must be reliable and repeatable, and not add additional variability to the manufacturing process.
Qual@xy SPC Vision 'Gage R&R' module provides repeatability and reproducibility analysis required by aerospace and automotive standards as well as many other studies for understanding and validating your measurement system.

'Gage R&R' validation is a prerequisite to any SPC study.
Benefits

The module allows you to visualize the various components of measurement variability (operator and instruments).
It also provides periodic monitoring and validation of the measurement system.
Gage R&R and Measurement Variation One of the bases (theoretical and practical) of SPC is to understand and reduce sources of process variation known as the "5M's": Machine, Manpower, Method, Material, Mother nature (environment). We could add a 6th M (Management) But what about the 6th M: Measurement? One could argue that measurement error [...]