For engineers and planners, Check'n Go is a software system which provides a standardised method to define the manufacturing process for the shop floor including all process steps, instructions and checks which must be completed.
For the shop floor, Check'n Go provides a user friendly, interactive tool to ensure the execution and validation of each defined process step is done rigorously and consistently.
Overview
Check'n Go provides the operators with a step by step process including visual work instructions and electronic check sheets to record the required process checks and measurements.
Check'n Go enables a zero paper workshop environment as all work instructions and check sheets are electronic.  The full manufacturing traceability of a product is stored in a central secure database for quick and simple retrieval.
Electronic data also enables a live production monitoring dashboard and value adding process analysis and reporting to highlight process improvement opportunities
The basic structure of Check'n Go is as follows:
A process is an sequence of operations

An operation is a sequence of steps

A step is a series of checks or measurements
This is a radical change from the operator perspective.  Check'n Go is much more visual and interactive than the operators will be used to but also more structured and thorough. The concept is to make things as easy as possible for the operator but also to ensure that the process is followed exactly and consistently. Each operation is broken down into small steps  with the detailed instructions and checks clearly displayed. When the steps is complete and validated, check'n Go automatically sequences to the next step. The precise but limited  scope of information displayed for each step makes it very clear to the operator exactly what needs to be done and how to do it,  whilst ensuring everything carried in the correct order, using the correct tools and no checks or measurements accidently overlooked.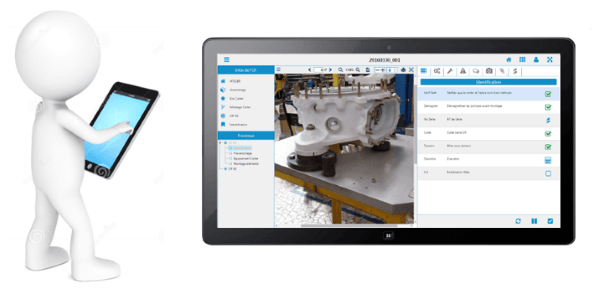 There is no need for 'paper followers', check sheets, drawings or work instructions as everything is displayed on a workshop or  tablet PC.
Check'n Go is also a robust planning tool and caters for the real complexities of a manufacturing process. Some examples of the advanced planning functions include the ability to create parallel operations, multi-head or multi machine steps (and traceability), delay or move operations to prevent production stops caused by day-day manufacturing issues.
Check'n Go Versus Paper
In theory, a paper based system should be able to manage these complexities and provide the correct instructions for the operator.
However, in practice, this is not always the case and the defined process is often not followed correctly. Actions are not always done in the correct order (even when it is critical), checks are overlooked or forgotten and instructions nor followed precisely. The inherent variation in the shop floor execution of a paper system often leads to quality problems and waste.  Sometimes this is detected internally and sometimes by your customer!
What are the benefits of Check'n Go?
In summary, Check'n Go re-defines and re-focuses the way in which shop floor activities are defined and executed in order to reduce variation and reduce quality issues both internally and at your customer.
Clear structured step by step manufacturing process plans for the shop floor

Detailed interactive work instructions

Electronic recording of process checks and product inspection

Prevents deviation away from defined process

Complete electronic record of manufacturing verification and traceability

Robust planning features

Flexibility to Cope with unforeseen day-day manufacturing problems

Real time manufacturing dashboard and product tracking

Value adding productivity analysis and reporting
Typical Check'n Go Applications
Fields of application are various and check'n Go is effective anywhere where a manufacturing process is set-up and run manually. Typical examples include: installation, assembly, composites, treatments –  special processes such as heat treatment, chemical treatment, painting etc and ensures compliance to Nadcap standards. In the medical field, Check'n Go is used for dosage controls, analysis and packaging and finally, MRO (maintenance, repair, overhaul) and preventative maintenance is a great application for check'n Go.
Why Infodream?
Infodream are specialists in the field of industrial quality monitoring and control. Our flexible and highly experienced team design, develop and integrate all the software in our Qual@xy production software suite and we have numerous prestigious references from many industries around the world.
Share this article
Register to our newsletter
Related Articles
Is your manufacturing process really clear for operators? How can you ensure operators follow the correct manufacturing process? […]
CARAIBE project has been focusing on aeronautical innovation and environmental benefit, specifically the development of material and manufacturing methods […]
The Paperless workshop! The ultimate goal (or dream) for any production manager! […]