What is Inertial Tolerance?
An innovative and effective approach to shop floor tolerance management and process control
SPC Vision V7 has incorporated 'Inertial Tolerancing' into its already feature packed functionality. Developed with Maurice Pillet (Savoie University), this dynamic approach enables increased manufacturing tolerance to be applied on the shop floor whilst still conforming to overall design requirements.
Why Inertial Tolerancing is an Essential Specialist Feature?
Engineers are often heard saying that the design tolerances are simply not achievable. This is often true and results in high manufacturing and quality costs. Inertial tolerancing removes the limitations of traditional tolerancing methods and applies a new process based approach which will have an immediate impact of the shop floor.
3 Key Benefits
Reduces manufacturing costs caused by unachievable design requirements

Flexible, dynamic and achievable tolerances based around the manufacturing process

Robust process control and quality validation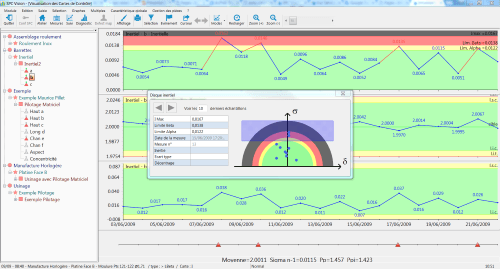 Controlling the Inertial Process
Applying the techniques in what Maurice Pillet calls "Inertial Control of a Process", requires a number of steps.
Applications
Tight tolerance assembly TBO

Micro assembly, such as watch making

Plastic injection moulding
Share this article
Register to our newsletter