Company overview
Since 2003, VENTANA has a highly developed but also organic way of investing in companies through the complete value chain of its vertical integration strategy. The group now has six companies totalling over 318 years of expertise in the service of high technology.
Using all companies in the group allows them to offer a comprehensive package to customers, ranging from co-design, through to prototyping and production.
Fonderie MESSIER has patiently developed (over 70 years) unparalleled expertise in the development, industrialisation and production of sand castings precision aluminium and magnesium parts.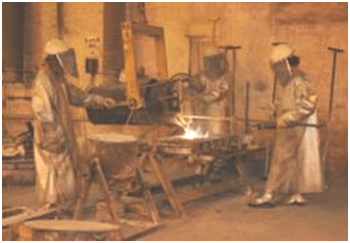 Project description
The CARAIBE (Innovative Aeronautical casings for Environmental Profit) is a collaborative project for the development of sand foundry processes which started in late 2010 and was completed in mid-2014 when the resulting new technologies were introduced.
Digital manufacturing development methods were used which resulted in drastically reduced development cycles and industrialisation costs.
However, key to this new design flexibility is reliability and repeatability of the new manufacturing methods.
The CARAIBE project involved several partners, including 3 key integrators (Turbomeca, Airbus Helicopters and Liebherr), SMEs (including Infodream) and various research centres.
The objectives of the project :
Obtain and implement an efficient computer tool for the statistical monitoring of foundry process data (at all stages)

Validate process specifications, manufacturing configuration and process recommendations based on the results and data analysis.
Process monitoring using SPC Vision
We focussed on 3 key areas:
The definition of data: what is relevant? What are the tolerances? How to activate process alerts when the tolerances are exceeded?

Data acquisition: how is the data recorded and managed? how is the process measured? evaluation of the measurement environment?

Data processing: what is the most effective way to communicate and present the data? What correlations are there? What statistical analysis or other processing is useful
The first step was to develop a complete process map of the foundry from incoming material receipt through to final inspection, These included mixing, infiltration, sharps, melting, casting, trimming, NDT inspection, locating.
It was necessary to define a complete chain of data custody starting from the sand and mould mixing (where the actual part does not yet existent) to the casting (creation and identification of the part with real traceability).
A big step for Infodream was the development of new IT modules and functions. SPC tools already exist, but applying "traditional SPC" methods requires a relatively stable process (by definition, a control chart is statistically relevant only if it follows a stable process) and this was not the case and the foundry!
Particularly important, was the development of Check'n Go software which now provides clear step by step process plans, interactive operator working instructions, definition of resources, and easy data input and capitalisation of manufacturing data (cycle times, expiry times, part identification, process traceability etc). A key benefit of Check'n Go is to help standardise manual working methods and hence reduce process variation between operators. Also deployment of the tool on the shopfloor was critical due to the harsh environment and so portable rugged tablet PC's with WiFi were used.
Process data is now regularly monitored, analysed and acted upon and although results are confidential at this stage, the analysis has significantly increased process knowledge and reduced the cost of non-quality.
Summary
This project has generated a considerable change for the foundry culture – moving away from an "expert" operator dependant approach (product specialist, local diagnosis, compliance quality) to a data driven standardised way of working.
Formalisation of working methods
Clear working processes and electronic work instructions

Explicit description of process actions

Standardisation of procedures
Formal process validation
Traceable actions

Obligation to record process down time and causes
Introduction of a "Global process" information system
Traceable and time stamped

SPC process control

Tracking of production OFs (progress, stops, etc)

Effective communication and flow of data through the complete process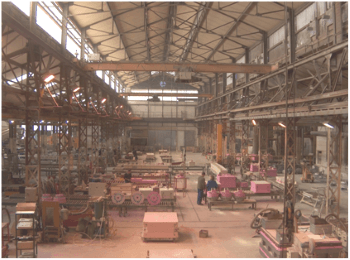 The deployment of process monitoring and statistical analysis methods at Fonderie Messier needed a strong management commitment, leadership, and a willingness to accept some changes to the organisation. Significant cultural developments (computer tool in the workshop, time tracking, time stamp and full traceability) were also critical to the project success.
The project has been very successful, and has demonstrated that even in a traditional operator dependent unstable environment, it is possible to introduce new quality methods and IT tools with great results. Hopefully, this project will get rid of some of the common myths about SPC and other quality methods and encourage others manufacturers to follow suit.
This project has helped Infodream to advance the functions of our Check'n Go software which now operates in a global complex chain of production, including multiple actors and functions.
Share this article
Register to our newsletter
Related Articles
CARAIBE project has been focusing on aeronautical innovation and environmental benefit, specifically the development of material and manufacturing methods […]
Is your manufacturing process really clear for operators? How can you ensure operators follow the correct manufacturing process? […]
"I was instantly attracted by the end user simplicity and easy implementation of Check'n Go."[…]