CT INFODREAM is a competence center for Continuous Improvement
Continuous improvement is a process that consists of a sustained effort over time to improve products, services or processes.
In addition to our process control software, we offer training, advice and support to our customers. This range of services ensures the success of your industrial projects.
Competence Center
CT INFODREAM's experience and the skills of its team will assist you in the implementation of your quality approach. We have a multidisciplinary and dynamic team of engineers of four different nationalities.
This allows us to integrate easily into international teams and projects. We offer training courses (Infodream is Datadock registered) in English, French, German and Spanish.
Thanks to this flexibility, we can respond to your needs, whether for remote assistance or for the complete deployment of a project.
Integrated solutions
By combining our software, our services and our years of industrial experience, we can offer you complete, high-performance solutions. This ensures the success of your continuous improvement project.
We have regularly supported numerous customers of all sizes (single and multi-site). And experience proves that this is the best solution for maintaining the momentum of the start of the project, harmonising your practices and making a success of your continuous improvement approach.
We can intervene in your project in two ways:
as a provider of quality and productivity oriented IT solutions
or by being a stakeholder throughout your quality process thanks to our assistance and our methodology. This assistance is offered both in the pre-project phase and in the follow-up of results.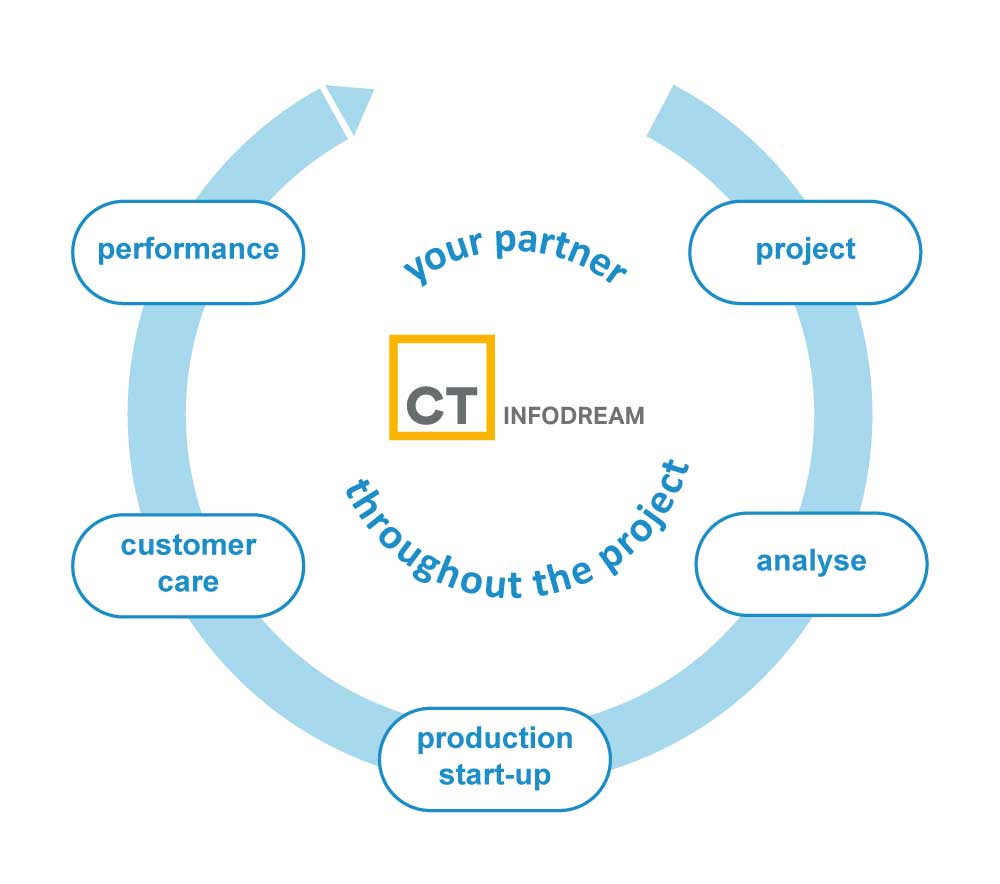 Our solutions are scalable, fully configurable and always production and efficiency oriented.
In addition to being outstanding programmers and experts, all our engineers have a strong industrial culture and an excellent understanding of continuous improvement techniques.
With our experience, availability and ability to listen, we understand your business and your needs.
CT INFODREAM has a real sense of anticipating production needs. That's why working with Infodream is a guarantee of security for you.