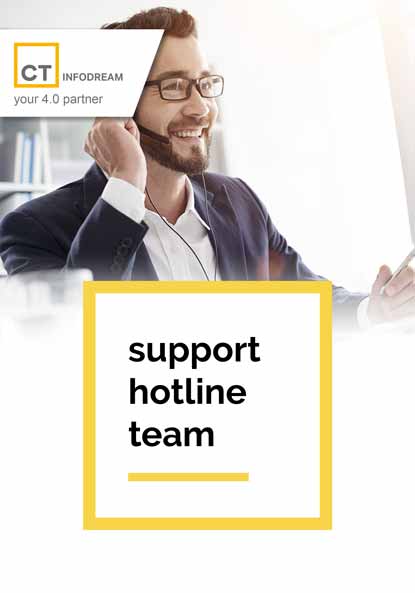 The CT INFODREAM Support Unit is highly valued by our customers.
An available and responsive support center at your service
Throughout your project, CT INFODREAM will support you with its support team.
With a wide range of functions, he will be a precious help on good practices or the interpretation of statistical results. He will give you the benefit of his experience acquired over the years and during visits to our customers.
Indeed, we regularly travel to our clients' sites to install our software suite or to train the teams that will have to use it.
Whether you need technical support, an answer to a question on how to use our software or on more theoretical aspects of SPC, CT INFODREAM's support team will be available to answer your questions.
CT INFODREAM's support division consists of :
a lot of availability with 18 hours of amplitude; you always have an expert on line
a high level of responsiveness, because at Infodream we know that a problem in production cannot wait
efficiency and involvement to provide you with personalised solutions adapted to your situation
fluency in English, German and Spanish to support your international sites

Web support (video conferencing, VPN or secure client-server)
For specific questions requiring a study of your navigation in our software, or for a « micro-training » on a precise function, we organise web sessions where we can take the lead for maximum efficiency.