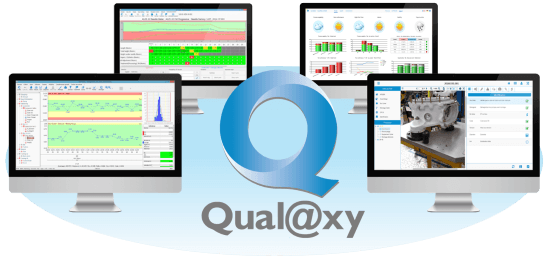 Infodream specialize in manufacturing quality control and our innovative solutions have helped companies achieve manufacturing excellence for almost three decades.  MES Software for Industry 4.0, Qual@xy Suite covers:
Work order management

Electronic job card and work instructions

Shop floor data collection and traceability

Real time SPC and statistical analysis

Web portal for enterprise visibility and KPI management
Combining our innovative products, project services and years of experience, Infodream will help you drive continuous improvement, reduce non-compliance and significantly reduce manufacturing costs.
Paperless Shop Floor Execution
KPI Monitoring & Reporting
Our clients
Infodream have many prestigious clients across different manufacturing sectors.
The nature of the businesses can be very different, each having unique requirements, characteristics and issues to overcome.
Our key strategy has always been to form close partnerships with our clients and this has enabled us to continuously develop our products to meet the needs of a every changing modern manufacturing environment.
Select your industries:
Aerospace
Automotive
Watch making
Life sciences
Electronics
Other industries
"I was instantly attracted by the end user simplicity and easy implementation of Check'n Go."
"SPC Vision has enabled us to make a great leap forward in terms of defect prevention. Reducing our waste is one of the many results since the implementation of SPC Vision software at MacoPharma."
"We can now look forward to increased efficiency, and a huge saving in our time – which, put simply – is priceless."
"SPC Vision is an intuitive application for everyone. Both stable and scalable to ensure our Statistical Process Control."
"The combination of two programs (Check'n Go and SPC Vision) provide strong leadership for the rigorous monitoring required at our production facilities."
"SPC Vision has enabled both a large number of measurement and inspection stages to be removed and empowered the operators to achieve consistently high standards. It has really helped us achieve standard times and is already improving our profitability."
Improve Quality
Reduce non conformance
Reduce manufacturing costs
Various articles published here have already explained the concept of SPC (Statistical Process Control) and its benefits for any production process. Traditional SPC is focused on sampling the production [...]
Infodream Inc. is currently celebrating its first birthday. Infodream Inc. celebrates its first birthday. Our Seattle-based US subsidiary, led by CEO Michael Lebas, is growing quickly with new clients and [...]