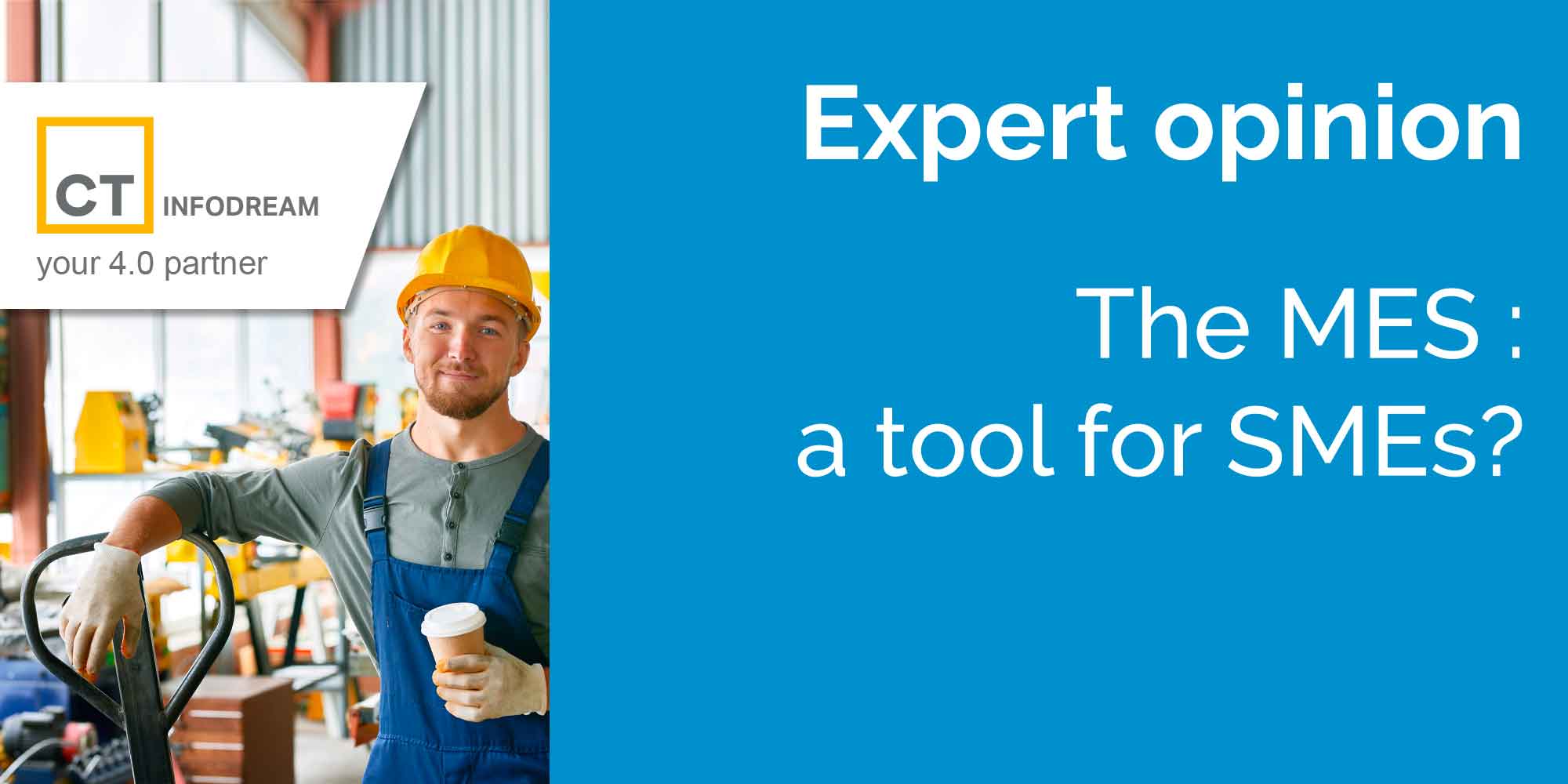 The MES : a tool for SMEs?
When we talk about manufacturing execution systems (MES), we often imagine a heavy tool, requiring long and laborious deployment timescales and not necessarily adapted to the flexibility and reactivity required by small to medium size enterprises (SME).
What if you were told that the MES contributes to the flexibility of SMEs and that it is an important tool to achieve operational performance and efficiency ?
The missing link in the digital continuity between the supply chain and manufacturing, the MES has become the structuring solution for the industrial ecosystem – industry 4.0.
However, let us be realistic, as with any subject of this scope, its implementation requires a project organization including the analysis of the real needs, definition of a cross-functional team, identification of KPIs, budgeting, etc. In short, a process that will have the inevitable result of frightening SMEs and raising two key questions:

Is this the right tool for us?
Are we able to easily manage it?
Is this the right tool for us?
To the first question, we believe the MES is the real conductor of the workshop, and thus the only guarantor of the availability of the right information at the right time in the right place.
Defined through the ISA95 standard, an MES must contain defined functional solutions which aim to bring benefits according to quality, delivery, costs.
Thanks to the MES, communication between people, machines and software will be more dynamic, faster and more reliable thus allowing real-time reactions.
A process that drifts, a bottleneck, a cycle time penalized by an operation, a machine more frequently broken down than others, a stop due to a component shortage.
All these hazards will be logged, quantified, analysed and monitored over time. The agility so often talked about will be possible: load transfer, priority change, reassignment of machines.
But short-term reactivity will not be the only benefit. Indeed, longer term analysis will be possible thanks to the centralization and standardization of data: design review, analysis of downtimes, scrap, etc.
Are we able to easily manage it?
To the second question we believe that the implementation of an MES is accessible to all, even small companies that do not necessarily have the means to commit a large team for months at a time.
To do this, it is necessary to proceed in stages, targeting a precise scope and deliverable at each phase in order to achieve a well-defined goal that is understood by all. Progressing according to real added value of the functionalities deployed will make it possible to observe their returns immediately and to confirm the project ROI.
Setting up an MES should not be a forced or suffered decision, but a decision voluntary and desired. In this context, the project can be carried out by an SME as well as large companies and the benefits obtained will be very rapid.
As you will have understood, the benefits are so important that the only question that you have to ask yourself is «When do we start?»
Frédéric Henrionnet
CT Infodream