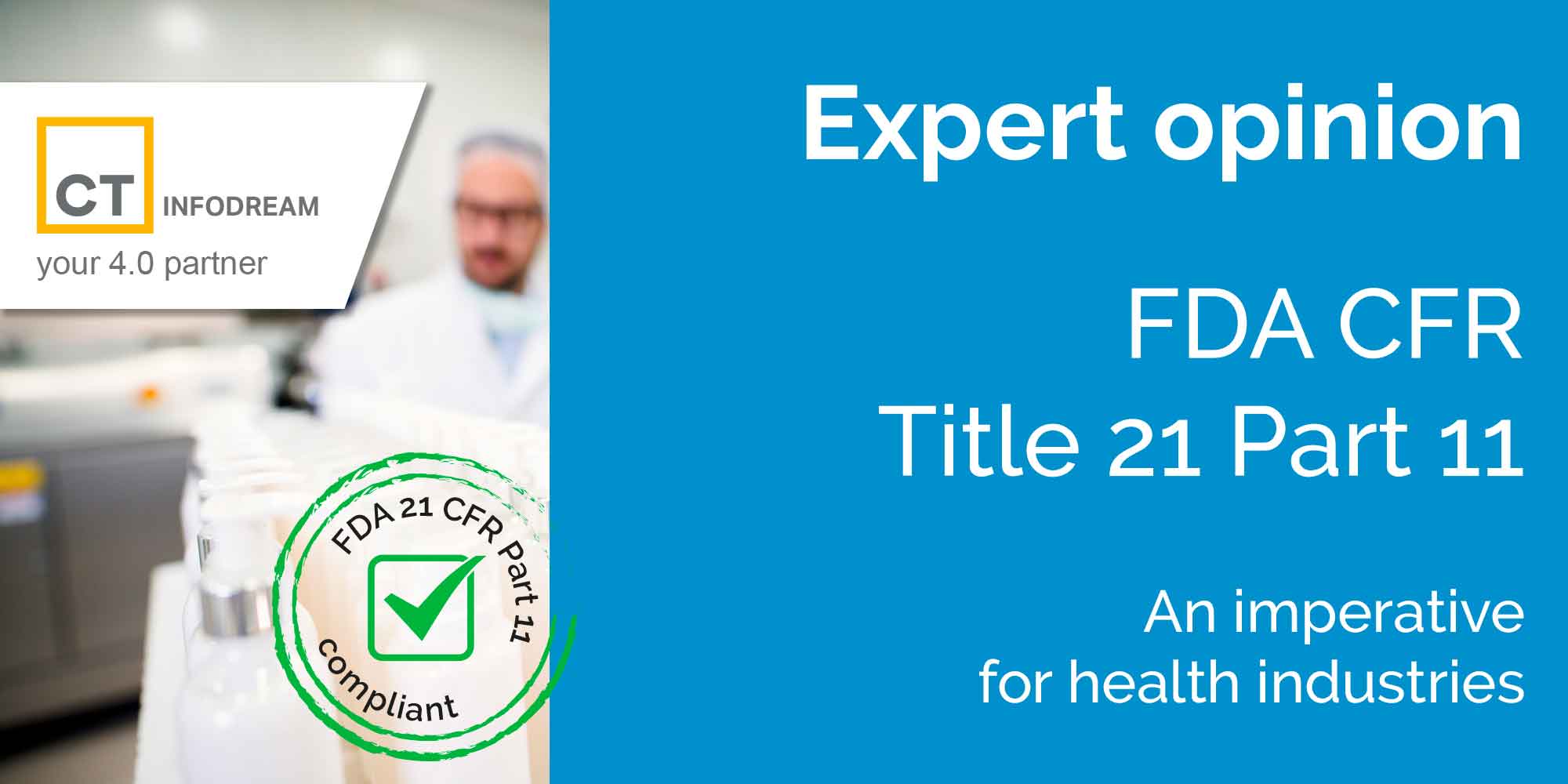 FDA Title 21 CFR Part 11, an imperative for healthcare industries
21 CFR Part 11 is a regulation concerning the use of electronic documents and signatures.
Its respect has become essential for the pharmaceutical, cosmetics or food-processing industries wishing to market their products not only in the United States, but also internationally.
Standards to secure data.
In several industrial sectors, the digitalisation and digitisation of processes is multiplying the number of data exchanged. This is especially true in the health sector.
So how can all this data be secured against multiple threats (hacking, technical failure, handling errors, etc.)? How can the reliability and integrity of this data be guaranteed? It is essential for manufacturers to set up standards and technical methods to guarantee the best possible protection and durability of data.
21 CFR Part 11
One of the most important regulations governing the manufacture of pharmaceutical products is 21 CFR Part 11.
The first draft text was released in its basic version in 1997. This reference framework is constantly evolving and is modified over the years. This makes it the most influential regulation in the field of electronic records and signature management (ERES*).
The 21 CFR Part 11 standard is issued by the American FDA (Food and Drug Administration).

It lists all the regulatory provisions to which an organisation must adhere in order to comply with the retention of electronic records and signatures.
Whether electronic or paper-based records are used, a number of data management rules must be followed. This is in order to offer equivalent guarantees of durability, authenticity, confidentiality and traceability. And to avoid any sale of non-compliant products that could have serious health consequences..
The standard clearly sets out the list of controls and good practices to be followed for electronic records and signatures.
This ensures data accuracy and reduces the potential for human error.
The repository also aims to ensure that all changes made to an electronic document are effectively tracked.
Companies in the pharmaceutical, cosmetics or food-processing industry that wish to market their product(s) in the United States must comply with this standard.
What is an electronic registration?
According to the definition of the repository, it is any information in digital form that is created, modified, preserved, archived, withdrawn or transmitted by a computer system. This information consists of a combination of text, graphics, data, audio, images, etc., in digital form.
Any paper document scanned into a computer is also considered an electronic record.
What is meant by compliance with 21 CFR Part 11?
There are many solutions for digitising industrial manufacturing processes that comply with 21 CFR Part 11. This is in order to exchange data electronically and to ensure traceability, security and durability over time.
However, it is not only the computer system that has to be compliant. It is also the whole of the processes to be digitised and the application that is made of them in the company.
This is why it is always advisable, before investing in data management software, to think about standardising exchanges and information flows in order to bring them into line with the reference system.
*ERES : Electronic Records and Electronic Signatures
*MES : Manufacturing Execution System
*FDA Compliant : meets the requirements subject to appropriate software parameterisation.
Infodream, FDA compliant publisher and integrator…
Infodream is a publisher and integrator of an MES (software package dedicated to quality and productivity).
Installed for more than 30 years in manufacturers in all sectors, our software helps you to set up and optimise your digitalisation and continuous improvement process.
Infodream's clients in the pharmaceutical sector include Biomeyrieux, Molnkycke, Bayer Healthcare, Novasep and others.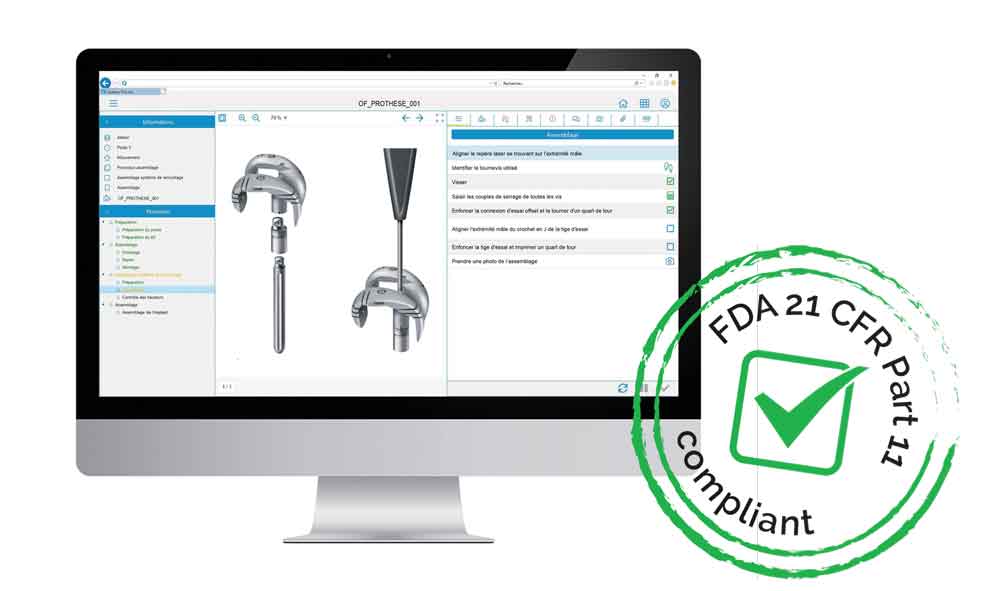 The fruit of this expertise, the Qual@xy Suite, our innovative MES* for the factory of the future, is an « FDA compliant* » solution. It combines ease of use, rapid deployment and immediate economic gains.
It is designed for all types of company: SMEs, ETIs or large groups.