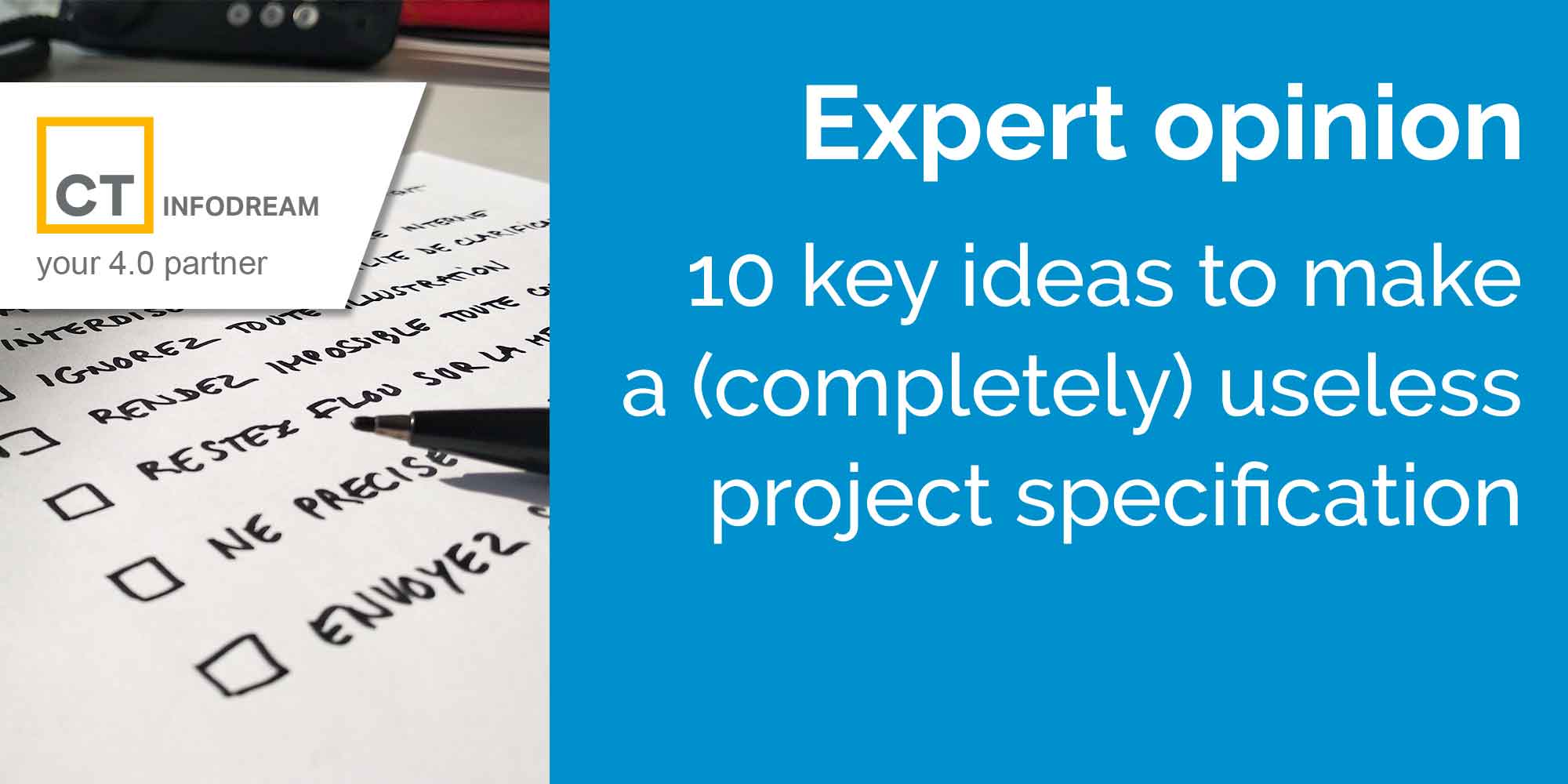 10 key ideas to make a (completely) useless project specification
It is well known that companies can afford to spend their time without counting.
Abundance of resources, absence of unforeseen events, extremely simple IT environment, immediate understanding of your needs by your service provider…
You will of course recognise your company through these few classic success factors.
Perhaps you are tired of seeing every project around you succeed at first sight?
What if for once you were to try your hand at the unspeakable pleasure of doing, undoing and redoing?
This article is for you!
So here are 10 tips to help you avoid missing out:
1. Don't provide details of your IT environment
A good service provider will be sufficiently knowledgeable to interpret without error your operating mode, your imperatives and your final objectives. Moreover, if they don't ask any questions, it will be proof that they understood everything at first glance, and certainly not that they are afraid to ask.
2. Neglect the PQOQCCP*
These academic precepts from another time are perfectly inapplicable in companies. They are only the result of empirical research on common methods of analysis and understanding between individuals with different experiences.
This is why, if you want to miss your specifications, you should not even think about these elements.
* What? Where? When? How? Who? How much? Why?
3. Use internal vocabulary…
…and don't explain it, with a lexicon for example. What an idea! This way, you are certain that your supplier will be able to misinterpret your requests, and therefore misrespond to them.
On the other hand, the use of acronyms, shortcuts, or references to documents not supplied is highly recommended to destabilise your supplier and undermine the relevance of your specifications.
4. Prohibit the possibility of clarification
Indeed, some service providers have developed the unfortunate habit of reading the specifications sent to them and, above all, of asking questions to the client in order to clarify the needs expressed. By not leaving this possibility open, your potential suppliers will remain in the dark, and you will obviously limit any risk of a relevant answer.
5. Ignore any illustration
Making mock-ups of the desired screens, even summary ones, or diagrams clearly explaining your expectations, may help us to understand your needs. No, if you want to miss your specifications, plan instead to use text (preferably not in a formatted form) in order to reduce the clarity of your message.
6. Make comparisons impossible…
…between the different offers received. To do this, avoid asking for quantifiable elements (cost, lead time, support service coverage, etc.), and any opportunity to explain the figures announced in addition. This way, you can be sure that you will be able to compare elements without knowing what they cover, and therefore select the offer that is least suited to your needs.
7. Stay vague on performance measurement
A truly ineffective specification should not reflect the level of importance of the project to your company.
In fact, clearly indicating how the chosen services will be measured against clear, pre-defined indicators could suggest that the project is of interest to your company; it is therefore better to avoid them.
If you have inadvertently defined a relevant key indicator, do not measure its value before the start of the project. There is no risk of being able to assess the impact of the chosen solution.
8. Do not specify a budget envelope
The offers of potential suppliers may prove to be very different, in terms of the technologies used, the time spent on the associated intellectual service, and the levels of post-project support.
Thus, the budget envelopes can have a large amplitude.
Failure to specify the budget envisaged for your project will mean that you will waste time analysing offers which, in any case, will not be successful.
9. Send without internal verification…
…your specifications to all the identified service providers. Indeed, the other teams in your company could have a complementary view of the reality on the ground to be taken into account.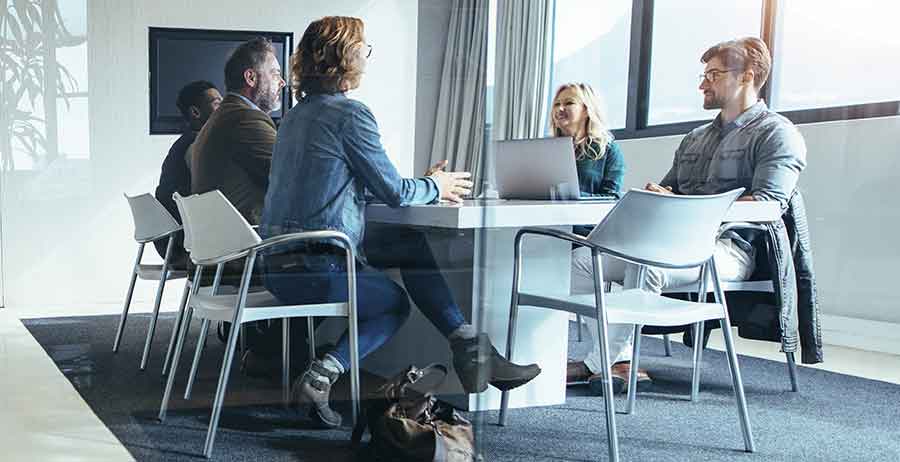 Drawing up a set of specifications with the other teams in the company could help the project to succeed.
Another obvious risk would also be to create a company dynamic around your project, and thus promote its success.
It is therefore better to send your document without proofreading or validation.
10. Do not take customer references into account
Don't do it! Respondents, thinking they are doing the right thing, can sometimes give you customer references with whom similar projects have been carried out.
It is very important that you do not take an interest in these examples and do not contact the references mentioned. You might get advice, feedback or good ideas, and thus risk moving in the right direction.
In conclusion
And there you have it, you have all the elements to write a really unusable specification.
No risk of seeing your project progress serenely, and guarantee that the desired objectives will be achieved.
Unless, of course, you make the final mistake of choosing an experienced service provider who is available, who has mastered the development of his product and who has a real sense of anticipating production needs.
With his production- and efficiency-oriented vision, he could still bring your project to a successful conclusion… The trap.
Florian Cassin
Sales Engineer at Infodream
florian.cassin@infodreamgroup.com
You may also be interested in this article…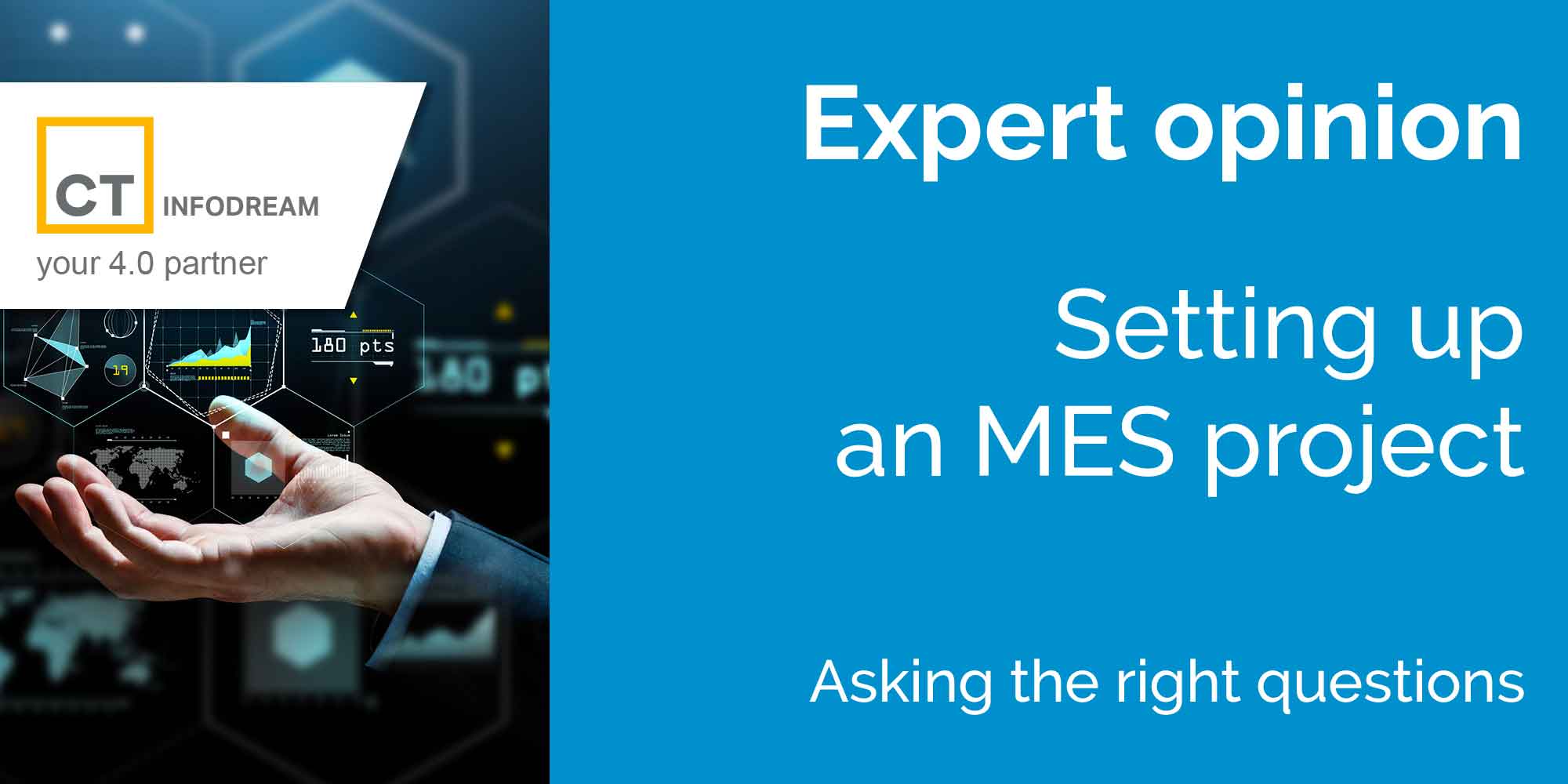 11 mai 2020
Setting up an MES project requires essential preparatory work that should not be neglected. Implementation of an MES solution : key questions to answer. The implementation of an MES solution is a wise investment for any company wishing to strengthen…