Mölnlycke Health Care case study
We can now look forward to increased efficiency, and a huge saving in our time – which, put simply – is priceless.
Jacques MARIN
Mölnlycke is one of the world's leading suppliers of single-use products for surgical and wound care services in the healthcare sector.
By using Infodream's Qualaxy SPC software, Mölnlycke has significantly reduced processing time, rework, scrap, inspection time and eliminated the problem of ShopFloor document control.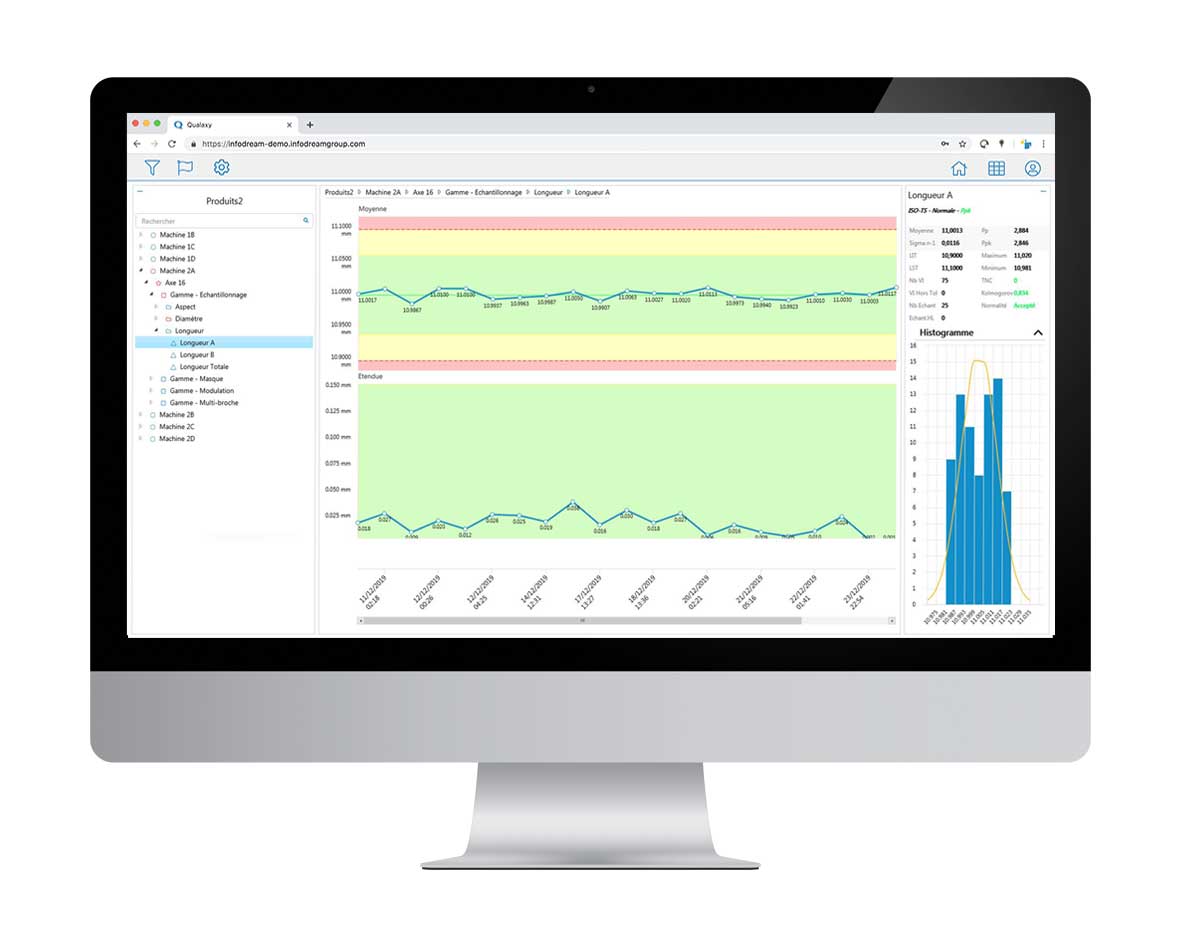 Company Overview
With 6,200 employees working in nineteen offices across Europe, the Middle-East and Africa; two offices in North America; and four offices in the Asia Pacific region, Mölnlycke is truly a global brand. Plant locations include Belgium, the Czech Republic, Finland, France, Malaysia, Thailand, and the UK, where the Oldham site produces Mölnlycke wound care products.
Mölnlycke Health Care continuously strives for industry leading reliability and quality in products and services in the interest of patient safety, customer satisfaction and business excellence.
Improving Quality & Efficiency
The Mölnlycke plant based in Waremme (Belgium) were keen to adopt the best practice policies of FDA's PAT (Process analytical technology). This voluntary best practice framework promotes the use of innovative development, manufacturing and quality assurance methods and offers approaches to ensure safety and quality assurance regulatory requirements are satisfies in addition to driving improvements in productivity and efficiency.
Conventional medical device manufacturing is generally accomplished using batch processing with testing conducted on collected samples to evaluate quality. PAT methods are founded on the principle that quality cannot be tested 'into' products and must be 'built in' through robust manufacturing or preferably by design. The goal of PAT is to enhance understanding and control the manufacturing process by answering the questions:
What are the effects of product components on quality?
What sources of variability are critical?
How does the process manage variability?
The key step for enhancing process understanding is the collection and analysis of data and whilst products and process have always been checked, the data is often not analysed effectively, nor is it immediate, meaning that this approach is of little use for controlling processes.
Mölnlycke decided to implement a system for collecting shopfloor information in real time, and quickly realised that their choice of system was crucial, as it would need to satisfy not only their internal needs but also the stringent requirements of FDA 21, part 11, ISO 2859 and ISO 3951 which are necessary for electronic collection and the retention of production data.
We are pleased to say that Infodream's Qualaxy SPC was selected and has now been deployed in all areas of the manufacturing facility. Data is collected from a combination of line-side manual inspections and automated inspection equipment. The user friendly nature of the software has really been appreciated by the shopfloor as Jacques MARIN explains:
Simple electronic work instructions now replace the old paper based system. In addition to removing the paperwork and associated administration, the new Qualaxy SPC method has the added benefit of eradicating the age-old problem of shop floor document control.
The information is analysed and immediate reports made, allowing real time quality assurance and product & process validation. This means that products can be released faster due to validation at the point of manufacture rather than through final inspection in an offline laboratory. The advanced statistical process control features of the software allow Mölnlycke to control their processes far more pro-actively, thus managing process variation to avoid rejects.
Since implementing Qualaxy SPC we have seen a significant reduction in scrap and re-processing which has noticeably improved the efficiency of the manufacturing process.
With increased process capability and robust process control Mölnlycke can now take full advantage of the methods promoted by PAT and are able to reduce the quantity of inspection through a risk based data driven approach described by ISO2859. Qualaxy SPC provides this functionality with a 'reception control' module which actively determines batch sampling quantity, pass criteria and sampling frequency. This has resulted in a significant reduction in process time.
To summarise, by embracing the forward thinking approach to quality promoted by FDA PAT, Mölnlycke have taken a real step forward:
Implementing Qualaxy SPC has helped us to really understand and manage our processes more effectively, resulting in a real increase in productivity & efficiency.
Jacques MARIN