Safran Helicopter Engines case study
Safran Helicopter Engines specialises in the manufacture of complex mechanical assemblies for the aerospace industry and the maintenance, repair and overhaul (MRO) of small/medium size gas turbines. The company forms part of the global group of SAFRAN, whose subsidiary companies are located in over 30 countries around the world and who employ over 61,000 staff.
Qual@xy SPC has enabled a large number of measurements to be made and verification steps to be eliminated. This allows operators to achieve significantly higher compliance rates. It is already improving our profitability.
Projet description
Infodream's Qual@xy SPC was selected by Safran Helicopter Engines after a 3 month trial period, to facilitate their key lean manufacturing project called 'Self Inspection'. The project's initial objective was to re-engineer the production inspection process to increase its efficiency and effectiveness. The project was no small task requiring a major cultural change and new ways of shop floor working.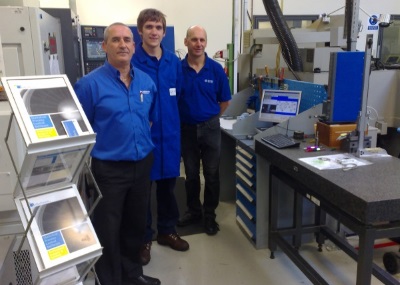 Pre-Self Inspection
Prior to the project, Safran Helicopter Engines' products were inspected several times during the manufacturing process. Each inspection step was conducted in isolation, often repeating measurements from previous steps. Additionally, each product underwent a thorough final inspection where the part was either passed and a certification report generated or failed and the required action taken. Undertaking the final inspection at the end of the process also meant that non-conforming products were sometimes not detected until this stage of the process, by which time much value has been added through each manufacturing step resulting in much higher scrap and rework costs.

New process
The entire production process has been analysed and reorganised to significantly improve its performance and efficiency. Qual@xy SPC software is at the heart of Safran Helicopter Engines' new production process, where the main characteristics are evaluated by the « SPC control stations ».
Products are now checked at the time of manufacture, measurements are analysed in real time and stored in a central database. Previously, all measurements were entered by hand, but with this new integrated system, 95% of measurements are automatically recorded in Qual@xy SPC via measuring instruments (digital calipers, air gauges, scales, etc.).
The characteristics measured at each inspection point are only those relevant to the associated manufacturing step, so there is no duplication. As the products are controlled and the data recorded at each stage of the process, the final control has been eliminated. The product conformity report is automatically generated by Qual@xy SPC at the end of the process. Non-conforming products are also identified much earlier in the manufacturing process, thus reducing scrap and rework costs and process costs. In addition, Qual@xy SPC can detect trends and trigger alarms, so action is taken before manufacturing problems occur.
Qual@xy SPC has enabled both a large number of measurement and inspection stages to be removed and empowered the operators to achieve consistently high standards. It has really helped us achieve standard times and is already improving our profitability.
Malcolm Smithers
Safran Helicopter Engines production manager
With phase 1 of the project almost complete, Safran Helicopter Engines are now looking to utilise the statistical process control (SPC) and analysis features provided by Infodream's Qual@xy SPC to monitor, control and improve machine and process performance.
Although this was outside the original scope of the project, there are clear benefits in using SPC on the shopfloor and we feel that this could really help us reduce waste and manufacturing failures in the future.
Malcolm Smithers
Safran Helicopter Engines production manager
Safran Helicopter Engines has already taken the next step by sending all operators to a « Variation Reduction and Statistical Process Control » training course run by Infodream Ltd. This has proved to be very positive, enabling the shop floor staff to understand this new way of working and the benefits it can bring them.
The training had expelled a few myths and misconceptions surrounding SPC and has given me a much better understanding and confident view of how to apply it.
John Atkinson,
co-manager of machining quality