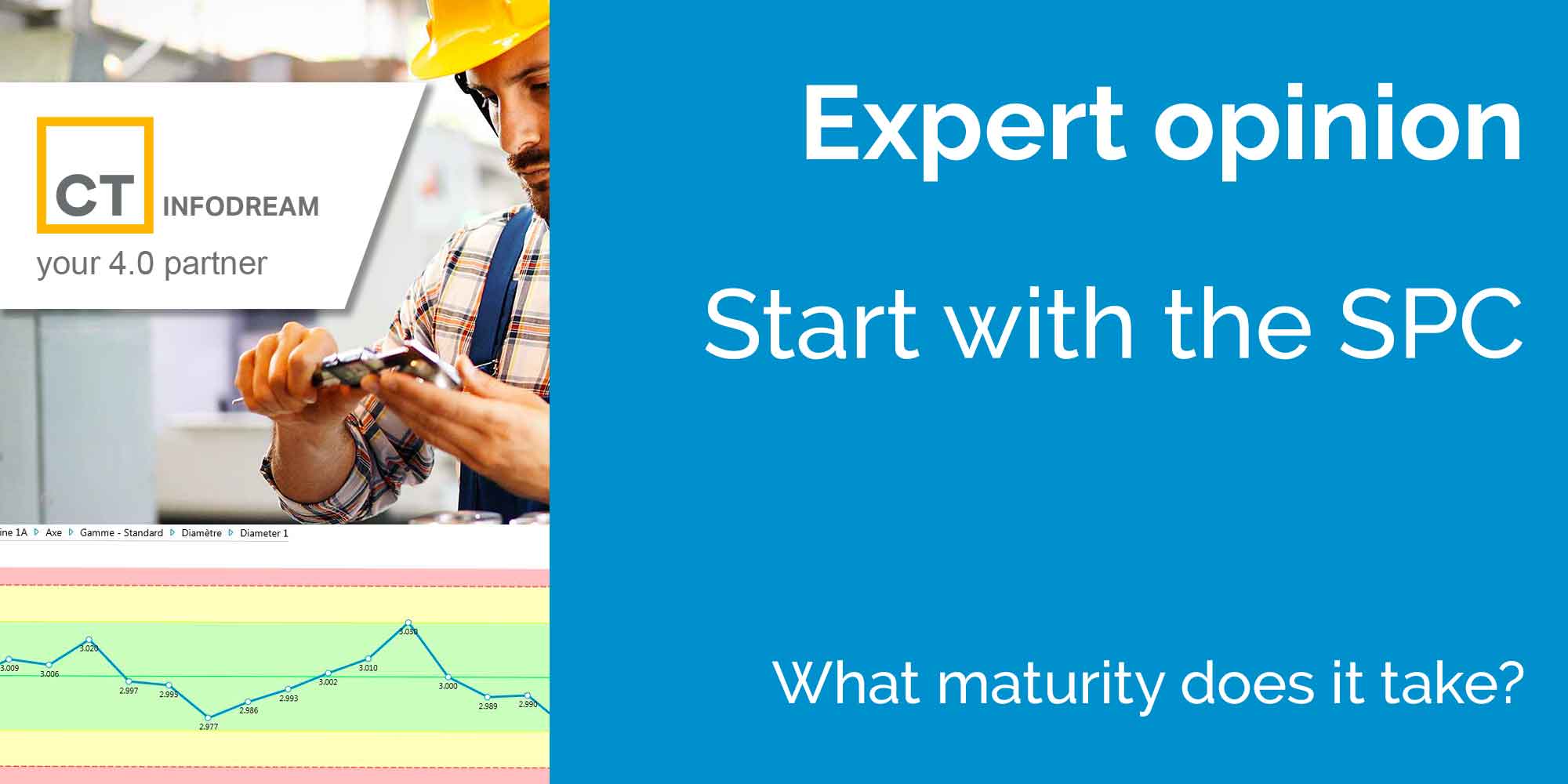 Start with the SPC – What maturity does it take?
« Are we ready to start with SPC? »
This question often arises when companies want to use SPC software but still have little knowledge and little or no experience of the subject.
Take advantage of your measurements!
Our observation is simple: what costs is the measurement!
Measurement costs:
operator time,
measuring equipment,
R&R (repeatability and reproducibility) validations,
qualifications and calibrations,…
And measurement (or control) is or should be part of manufacturing! The manufacturing company has no choice.
It would therefore be a waste not to take advantage of these measurements to learn about its manufacturing processes or its products.
Whether the measurements are scribbled by hand on a loose sheet, written on a pre-formatted sheet, entered on an Excel sheet or entered directly on Qual@xy SPC (the SPC module of the Qual@xy Suite) does not change the cost of the measurement operation; the only thing that changes is the use that can be made of these measurements: the same day, the following week, the following month, or in two years.
All companies have made enormous progress in traceability over the last few years.
Indeed, even the loose sheet of paper bears the WO (Work Order) number or the serial number of the part, the operator's name, various machine parameters, etc. But it is filed in a folder, the folder in an archive box, the archive box in a cupboard, and the cupboard in an archive room.
In the event of an audit or a customer problem, we will be able to find the measurement: but after how long?
Start with SPC to manage your stored measurements
Use a SPC software
The Qual@xy SPC module provides a general and shared database: the information is stored in a single place (no need to collect sheets or Excel files) and protected. You can easily and quickly find the data you need, and you can make selections, searches or correlations whenever you want or need them.
This is why we speak of « measurement management software » on a company-wide basis.
What about the SPC?
Since the measurements are in the database, they can be monitored on control charts. Alarms can be triggered in real time according to the conditions and parameters specific to each production. Alert e-mails can be sent if necessary, etc.
In short, real SPC can be carried out in production.
Start with SPC trainings
To do this, each training session on the software begins with an introduction to « Statistical Process Control » (SPC): we remind you of the basics, the principles; how it works, why it works. This awareness-raising allows us to fix the vocabulary and to recall concepts that everyone knows more or less but that we have never applied in real life. This SPC awareness training is carried out for administrators, configurators, preparers, but also for journeymen and operators (with different durations and objectives).
Learn more about your production with SPC
These SPC trainings make it clear that an SPC system allows two things:
To obtain decision-making means concerning the process (steering tool)
And first of all: to keep a picture and a history of the production.
If my process is not stable, the SPC cards will not bring much to the control level; but since we take measurements, we can visualise them in monitoring cards and learn about our process.
From this knowledge, corrective actions can be taken to bring the process to stability, and then … to the SPC.
Frédéric Henrionnet
Quality Assurance Manager at Infodream
Learn more about our SPC software